I am Christina Michalopoulou, a contemporary realism painter living and working in Thessaloniki, Greece. I am an artist, a mother and an entrepreneur. My studies were in Marketing, followed by 11 years in Advertising and Media Companies as a Media & Marketing director. Nowadays, I am the owner and director of happyrooms.gr, theartspace.gr and more recently, www.phos-collection.com.
Meanwhile, 6 years ago, I returned to painting after a long hiatus. It would seem that I was gathering images and shapes during that time. I was building an unconscious archive that lived somewhere underneath my breath. They are all now pouring out, unstoppable, in acrylic and oil, in abstraction and hyperreal figuration, in blossoming color and start monochrome. My work is a constant battle between abstraction and realism. Creating figurative, photorealistic human figures, faces and body parts on one hand, bringing them in total contradiction with hard core, monochromatic contemporary abstracts on the other.
During the last few years, I had a solo exhibition in Athens and participated in many International Exhibitions throughout Europe, USA and Canada, receiving Awards and distinctions for my work, including the participation prize at the XIII Florence Biennale via Teelent.it, the "Outstanding Woman Artist Achievement Award" from Manhattan Arts International, NY, and the nomination for the "Royal Art Prize Award", UK. I am also a member of the International Guild of Realism, USA.
At the same time, I am working on a permanent basis with Construction Companies, Hotel Groups and some of the greatest Architectural & Decorative offices of the country on small or large-scale art projects throughout Greece.
In these years, I had the honor to see many of my artworks finding their place in private art collections all over the world as well as in 5 star or Small Luxury Hotels and Villas. Also, original artworks can be seen at my atelier in Thessaloniki and digitally on Artsy.net, Saatchi Art and theartspace.gr.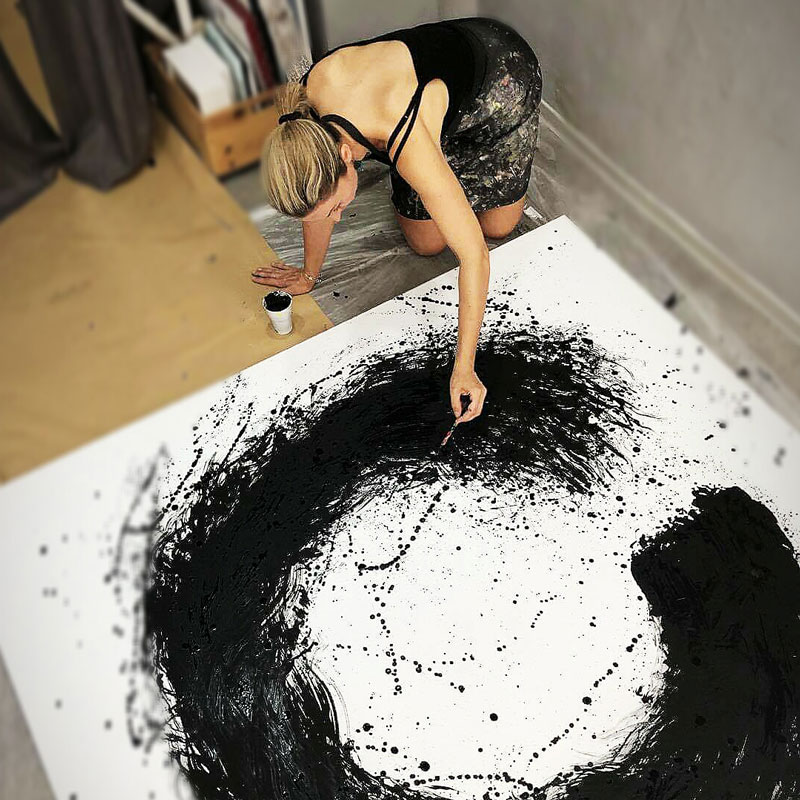 Apeiron Blue Santorini A beautiful project has taken place at my studio these last few weeks and I am so happy to share it with you! Four different collections of artworks were created for the 34 luxurious suites of the amazing Apeiron Blue at Santorini island. All four series are inspired by the Aegean blue, the breathtaking Caldera view of the island and the zen atmosphere of the resort. The first collection is called "Apeiron" and is a series of abstract artworks with hard textured surfaces in shades of cobalt and nautica blue. Apeiron is inspired by the deep
Read More »